Our programs create a continuum of growth for girls from 4th to 12th grade.
Community Bridges offers an array of programs for girls and families, including after-school and out-of-school time, educational learning trips, opportunity learning trips, mentoring, and college and career programming.
CB partners with schools (teachers, counselors and principals), communities and parents to identify girls that would be a good fit for our programming.  Our holistic, long-term approach encourages the development of the entire girl. Our aim is to empower  girls to think critically through various obstacles in order to take steps towards positive change.
School-Based Girls Program
The Community Bridges Girls program encourages girls in 4th through 12th grades to explore their identity, self-esteem, and build their character in a safe space to develop personal responsibility and leadership using a tested, grade-integrated curriculum. The program engages girls in their schools through after-school and in-service activities, as well as field trips on weekends. Learn more.
Mentoring
The Community Bridges Mentoring Program offers a multi-tiered approach for connecting positive female role models with each CB girl. Our CB Women's Mentor Initiative recruits women from diverse backgrounds to mentor our high school girls toward achieving their goals, both academically and long term. Learn more.
In addition, the CB Big Sister, Little Sister Program enables our high school girls to mentor our middle and elementary school girls, to build strong relationships, academic success, and help younger students learn to resolve peer conflict and steer clear of at-risk behaviors.
College and Career Planning
The Community Bridges College and Career Planning program connects CB juniors and seniors with the tools and processes for their next steps after high school graduation, with a strong emphasis on postsecondary education. Our goal is to increase preparation, application, acceptance and enrollment in colleges and universities for our graduates. Learn more.
Family Institute
Supporting and empowering CB girls includes supporting and empowering their families. The Community Bridges Family Institute provides parents and guardians of CB girls with opportunities to build skills, competencies, and social capital. The Family Institute is guided by a Parental Advisory Committee composed of parents and guardians. Learn more.
Partnerships
Collaboration is vital to our holistic approach to supporting CB girls and their parents.
First and foremost, we develop strong, supportive relationships with the principal, counselors, and teachers in each school.
We also partner with:
Human service agencies for issues/needs beyond our scope, including the Montgomery County Department of Health and Human Services and the Teen and Young Adult Health
Arts-based organizations — including Gandhi Brigade, Clancy Works, Pyramid Atlantic and The Art and Remembrance — to expose girls to their own talents and to utilize art as a form of expression.
IMPACT Silver Spring, CASA de Maryland Montgomery College and other agencies to ensure families have the opportunity to leverage resources beyond our scope.
Local colleges and universities, especially Montgomery College, to support our collage and career planning program. The College donated the computer lab at our office. We also work closely with the Montgomery County Public Schools college and career centers to ensure that our efforts complement and support the counseling staff.
Finally, we partner with other agencies to provide our unique services to their mission, such as the Montgomery County Collaboration Council's Excel Beyond the Bell program and Montgomery County Public Schools.
We also bring in subject matter experts and mentors throughout the year to ensure the girls receive quality skill and competency development and are exposed to diverse professional women.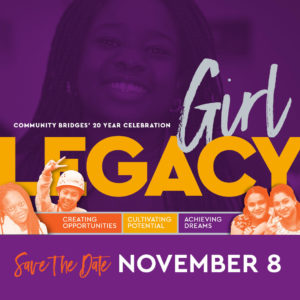 Join us on November 8 for
GIRL LEGACY. This special evening will celebrate  20 years of Creating Opportunities, Cultivating Potential and Achieving Dreams.